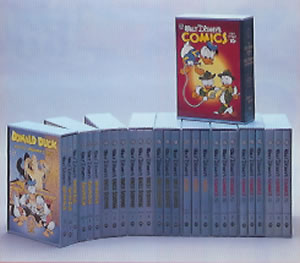 Character images (c) Disney Enterprises, Inc. are provided for infor mation purposes only and not for commercial reuse or reproduction.
-The Most Comprehensive Library Ever Published on the Works of One Cartoonist!
-A monumental 30-volume collection in ten boxed sets that was seven years in the making!
-Over 500 exciting, hilarious, subtle and outrageous stories starring Donald Duck, Uncle Scrooge, Huey, Dewy and Louie, Gladstone Gander, Gyro Gearloose, the Beagle Boys, Magica de Spell and many other unforgettable characters as seen through the eyes of Carl Barks!
-Over 7,000 pages of comic art, photos, storyboards, articles, interviews and analyses!
Who IS Carl Barks? Why is there an entire library devoted to his work?
People from Japan to Jakarta and from Finland to the jungles of South America consider Carl Barks the funniest storyteller who ever lived.
Quite a statement. But we believe it ourselves!
Another Rainbow has spent seven years of loving toil to prove that Carl Barks is even more than just a funny tale teller. We've put together an exhaustive compilation of stories and every imaginable piece of history and opinion related to them and the man who wrote them.
The CBL attempts to show - once and for all, for posterity - that Barks' place is high on the all-time list of print-media entertainers. His influence has been tremendous and his admirers span the continents in all age groups. Astronomers, archaeologists and even movie moguls have paid homage to the Old Duck Man for having inspired and prompted them to enter their chosen fields.
There are writers and philosophers who can express themselves as succinctly and who can drive home a point as well as can Barks. There are novelists who approach their commentaries on life with as many varied angles of focus. And there are a few comic artists who can communicate as well with a reader. But no one does it all with as much verve or as well as Barks.
It has been said, simple, that to read Barks is to become a lifetime fan. The litmus test of classic humor is whether a story is as funny the second time around. The duck artist's fans insist Barks' long adventures and ten-pagers are equally funny the tenth time around.
That's why we published the CBL in an over-size, 9"x12", hardbound format designed to be reread over a lifetime. Parents buy the library for the whole family....for stay-at-home entertainment that will outlast the wear and tear of constant handling by all ages.
The Carl Barks Library is divided into four sections. The first two boxed sets reprint a quarter of a century of adventures from Donald Duck comics. Sets three, four and five contain the counterpart tales from Uncle Scrooge. Set six is miscellany: all of the giveaways, special annuals and giants, the Junior Woodchuck stories and other odd pieces. Set seven through ten chronologically reprint a total of 252 ten-pagers that originally appeared in Walt Disney's Comics and Stories. The last set also has an index listing all of Barks' stories in the order they were first published.
Shipping costs are $12 per set - media mail - in the USA. ($30 for priority mail)
Note #1: Although we have sold out of many of these sets....please check out The Carl Barks Library in Color - we may have what you are looking for.
Note #2: there are also a very limited number of uncirculated sets from Another Rainbow with slight blemishes on the slip cases - available at a 20% discount.