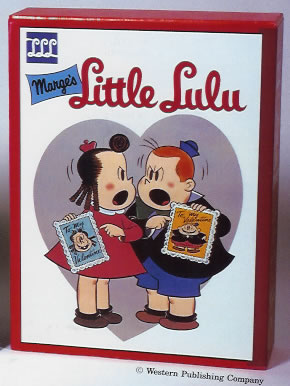 The Little Lulu Library is an encyclopedic compendium of the very best in comics. The six sets of The Little Lulu Library reprint the rare Little Lulu Four Color comics (FC74-87) and issues 1-87 of Miss Moppet's own comic book – ninety-seven complete comics books in all. Each set of a library is comprised of an average of seven hundred pages bound into three 9" x12" hardcover volumes encased in a sturdy and col­ orful slipcase. All stories are reproduced larger than comic book size, sharp and clear, from the original proofs and most are printed in black and white as the artists drew them. The front covers to the original comics and some special "extras" are reproduced in stunning full color!
The Little Lulu Library sets are more than just reprints. Each also contains valuable background articles on the artist, in-depth essays, and previously unpublished art not available anywhere else. Little Lulu comic books feature some of the funniest stories about kids as kids ever published! The stories show the bittersweet nature of childhood, featuring characters that are very much like real children.
Aside from getting what many consider to be the best of the Lulu years in a convenient and durable form, you can save $5000-10,000 over what it would cost you to buy the original comics in mint condition (based on the Overstreet Price Guide standards).
Only a few sets remain from the personal Collection of the publisher, Bruce Hamilton. They are unopened, shrink-wrapped and in their original boxes. It will be difficult to come by sets as pristine as these.
Shipping costs are $12 per set - media mail - in the USA. ($30 for priority mail)
Note: there are also a very limited number of uncirculated sets from Another Rainbow with slight blemishes on the slip cases - available at a 20% discount.