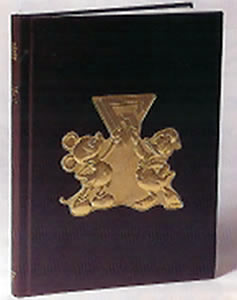 Character images (c) Disney Enterprises, Inc. are provided for infor mation purposes only and not for commercial reuse or reproduction.
All 28 of Gladstone's Disney Comic Albums and all 7 Disney Giant Albums have been sewn into eight, matching maroon leatherette hardbound books, the covers of which are stamped with a three-dimensional gold foil seal featuring Mickey and Donald. All volumes are numbered.
Only 1,000 copies of these eight volumes have been produced. No more will ever be done. They are available only in sets of all eight volumes and a matching, hand-numbered bookplate has been affixed to the inside front comver of each book to attest to the exclusivity of your set.
- Sets #100 and below - $695 (sold out)
- Sets above #100 - $495 (sold out)
-Shipping cost is $25.00 for traceable, media mail service within the USA.