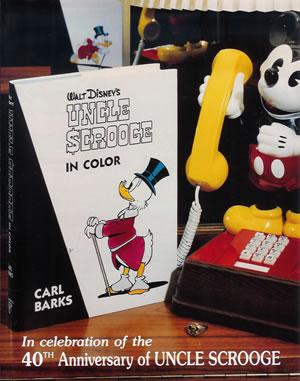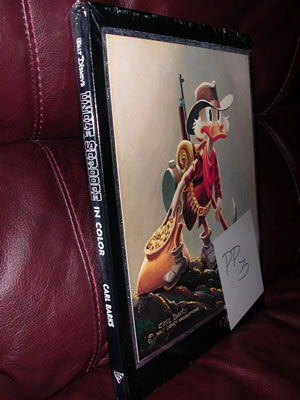 Top Photo - Regular unnumbered Edition
Bottom Photo - Deluxe signed and numbered

Edition with slipcase
Character images (c) Disney Enterprises, Inc. are provided for infor mation purposes only and not for commercial reuse or reproduction.
Donald Duck's fantabulously wealthy Uncle Scrooge McDuck first appeared in 1947 in Carl Barks' classic comic book story, "Christmas on Bear Mountain." Exactly 40 years after that auspicious debut, Gladstone proudly announced the publication of Uncle Scrooge In Color, a lavish hardcover volume devoted to the world's richest duck.
No expense has been spared to make this book the de­finitive fortieth anniversary commemorative edition. It measures a large 9" x 12" and is hardbound in cloth with a dust jacket printed on heavy glossy stock, folded on all four sides to prevent tearing. The interiors are also printed on a heavy, high-quality stock, chosen for its ability to hold color faithfully in the printing process. And as the title indicates, the following contents are printed in full color.
-A complete reprinting of the above mentioned "Christmas on Bear Mountain" by Carl Barks.

- The ten-page story by Carl Barks that first introduced Scrooge to his perennial nemeses, the terrible Beagle Boys.
-A complete reprinting of Uncle Scrooge's Christmas Carol (originally published as a Little Golden Book in 1960 under the title Donald Duck's Christmas Carol). Cark Barks did the pencil art for this book and his drawings were rendered faithfully as full color paintings by artist Norman McGary. These paintings, which were painstakenly cleaned and re-separated from the originals for Uncle Scrooge In Color, are printed larger than published size.
-Uncle Scrooge the Lemonade King. Like the Christmas book, Barks did the pencil art for this 1960 Top Top book. Not only does Uncle Scrooge In Color contain the complete color art re-separated from the original paintings by Norm McGary, it also showcases Barks' pencils alongside the paintings for comparison purposes.
-A detailed, profusely illustrated account of Scrooge's history in all media from "Christmas on Bear Mountain" to the DuckTales TV show, plus text features, background information, special surprises, and more.
-Uncle Scrooge In Color was also available in a special signed and numbered, slip-cased edition. It was limited to no more than 750 copies signed by Carl Barks and inserted into a specially made slipcase with a reproduction of a Carl Barks oil painting mounted on the front. In addition, the first 100 copies contain a 8" x 10" glossy photograph of Carl Barks.
-Publisher's Proof #3 - Signed Edition with Slipcase - $695 (sold)
-Signed and numbered edition - with Slipcase - $395 (sold)
Note: a small number of unnumbered editions are available - $65 (without deluxe slipcase) or $95 (with deluxe slipcase).
Shipping cost is $7.00 for media mail within the USA.