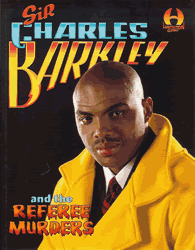 The former Phoenix Suns superstar power forward Charles Barkley got into his share of disagreements over the officiating that went on during games, but he never counted on the officials meeting violent deaths afterwards! The keen eye of suspicion is on him as he tries to unravel the mystery behind the murders and, if possible, prevent the next one!

To create model sheet references for artist joe Staton, Barkley posed for 88 photographs, acting out moods from "suspicious" to "amused" to "angry" to "I am not a role model." Staton's great art employs these authentic references and appears beautifully computer colored from the brush of Susan Daigle-Leach.

The best of the photos appear on the back cover and 35 are bound into the book in the form of a removable, perforated sheet of gummed stamps ready to be stuck on anything you choose!

A double flipbook of action photos appears in the corners of each page picturing Barkley dressed as a private detective setting out to prove his innocence in the referee murders case.

Taken from an idea by Bruce Hamilton, the script is by renowned author Alan Dean Foster, with additional diaolog by Charles Barkley himself! A four page photo/text section follows the exciting 44-page adventure fantasy!

BONUS: While they last, a 8" x 10" B&W
Photo of Sir Charles!!