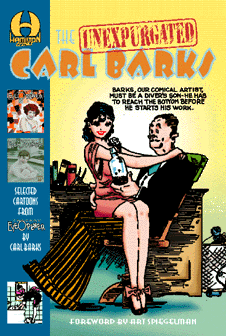 ---
Contains approximately 160 of the best, the funniest, the most outrageous cartoons drawn between 1928 and 1936 by Carl Barks for the Minneapolis-based "girlie" magazine, The Calgary Eye-Opener!
Nothing like The Unexpurgated Carl Barks has ever been assembled before! A few isolated drawings have appeared in various publications and comics from time to time, but most of these selections have been reprinted without captions or because they were tame. Not so, in The Unexpurgated Carl Barks! Every gag shown has been chosen by a committee of fans for quality in art, ideas, presentation and humor…warts and all, you might say! Topics not taboo in those days were treated with gentle humor or with no punches pulled…but all in good fun! There is even a selection of some of Barks' best tongue-in-cheek parodies of himself, one of which appears on the front cover, as shown above. The following examples provide a taste of what else is in store:
Corns (66K) | Rooster (99K) | Looser (83K) | Roto (99K)
Warning! There are cartoons in The Unexpurgated Carl Barks that some readers today might find offensive and if a reader is sensitive to "politically correct" issues today, they should not order the book. Parents will not want to order it for the very young. But all adults who are capable of putting the times these were drawn into correct historical perspective should order a copy! In short, it's hilarious! And it contains the first animation art by Carl Barks ever published!
68 pages in full color | 6" x 9" trade paperback format | $10.00 + s/h
For more on the early cartooning career of Carl Barks, go Coo-Coo! PH