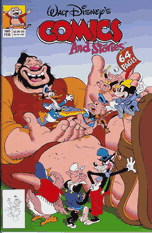 Highlights from this special holiday 64-page issue include:


"The Wise Little Hen" - Story by Ted Osborne and Art by Al Taliaferro. This is Donald Duck's first comics appearance, originally printed as a Silly Symphony from September 16-December 16, 1934. Donald and his friend, Peter Pig, hate to work, but the wise little hen is about to teach these two that all play and no work can end up being no fun.


In "The Brave Little Tailor", which is the original retelling of the famous 1938 animated short that was printed in the Mickey Mouse Sunday pages from August 28 through November 20, 1938, Mickey Mouse heads a troupe of actors who recreate the story with Mickey as the lead and Minnie his damsel-in-distress. Story by Merrill de Maris. Art by Floyd Gottfredson and Manuel Gonzales.


In the "Adventures of Mr. Toad", Angus MacBadger, Ratty, and Mole try to keep their friend J.Thaddeus Toad out of trouble, but their efforts only lead to more problems when Mr. Toad buys a car and takes it out for a spin, without and driver's lessons! Art by Pete Alvarado.


$6.00